The video made the game look really great, but I don't seem yet to have it in working order in this blog-entry. Them's the breaks.

Last Game: It's time to cheer David Beckham's American sojourn, and wish him well in other endeavors.

-- Sportikos, refWrite Backpage sports newspotter, analyst, columnist




ESPN (Dec1,2k12)



David Beckham rides off into sunset in final game with L.A. Galaxy
CARSON, Calif. -- It wouldn't be a Hollywood ending without some drama.

After the Los Angeles Galaxy fell behind, second-half goals from Omar Gonzalez, Landon Donovan and Robbie Keane allowed them to claim a 3-1 MLS Cup final victory over the Houston Dynamo, enabling David Beckham to ride off into the sunset.

It marked the second time in two years that MLS enjoyed an iconic Beckham moment. But for the first 60 minutes, it looked as if a very different kind of script was being written. Calen Carr's goal just a minute before halftime put the Dynamo ahead, and Houston defensively looked solid.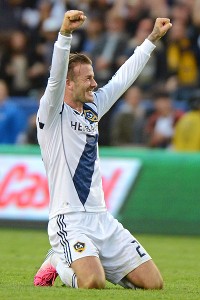 Robyn Beck/AFP/Getty ImagesDavid Beckham ended his run with the L.A. Galaxy on a high note.
But a remarkable turnaround saw the Galaxy score two goals in a five-minute span. Gonzalez, among the guilty parties on Carr's goal, delivered a superb looping header to bring L.A. level on the hour.

Donovan put L.A. ahead with a penalty five minutes later after Ricardo Clark was whistled for a handball, and the Galaxy were on their way. Keane finished off the scoring with another penalty in stoppage time after he was clipped by Dynamo keeper Tally Hall.

When Beckham came off to raucous applause as he was being substituted, it capped off another remarkable championship season.

"The feeling of making a final, the preparation, the feeling around the club, it never gets old," Beckham said. "I'm 37, I've been able to play in quite few finals and championships games, and I still love it like I did when I won my first."

It was a title that scarcely seemed possible six months ago, when the Galaxy stumbled out of the game with a 3-8-2 record and were well out of the playoff places. But L.A. completed a remarkable turnaround, getting in and navigating its way through the playoffs, even as there was a stumble or two.

"Thank God I had 35 years under my belt to be able to deal with this," said victorious manager Bruce Arena, who, with the victory, claimed his fourth MLS Cup title. "It was very challenging, exhausting."

For all the talk about attacking players leading into the 17th MLS Cup final, what separated the Dynamo from the Galaxy in the first half were the respective performances of the goalkeepers and defenders.

Even as the Galaxy pressured Houston in its own half and carved out some decent -- and at times stellar -- openings, the Dynamo's back line held firm and Hall was sharp in his decision-making when called upon.

The same could not be said for the Galaxy. Goalkeeper Josh Saunders looked nervous from the start and seemed especially suspect on crosses. The L.A. defense appeared more secure, but a classic case of Cool Hand Luke defending in the 44th minute saw the Galaxy torn apart. As Adam Moffat played a ball over the top, a failure to communicate saw rookie Tommy Meyer step forward and Gonzalez hold his ground. It was enough to spring Carr on a clear breakaway.

The sharp angle Carr took appeared to put Saunders in good position to make a save, but his inexplicable decision to go to the ground early gave up a huge portion of the goal, and Carr's shot just under the bar easily beat the goalkeeper.

Houston manager Dominic Kinnear had stressed the importance of denying Beckham space, and true to his word, Clark had the better of some early exchanges. But Beckham cleverly moved up field to get out of Clark's sphere of influence and began to find the spaces needed to be effective. He sprung Keane with a long pass into space in the 12th minute, and the Irishman laid a gorgeous pass for Donovan, who somehow contrived to shoot wide from eight yards.

Beckham was at his free-kick best seven minutes later, serving up a sumptuous cross into the box, but Mike Magee -- usually so clinical in the postseason -- headed at such an angle that the ball went over the bar.

At the start of the second half, L.A. turned up the pressure, with its midfield taking control. The Galaxy started to win a free kick here and corner kick there. Keane appeared to score in the 49th minute only to be correctly ruled offside, and Hall saved a tight-angled shot from the Irishman in the 52nd minute. Carr nearly put the Dynamo two up with a header in the 56th minute, and that miss proved costly, as L.A. was soon back doing nearly all the attacking.

"Sometimes, momentum changes in small increments, and that puts pressure on a team," Kinnear said.

It proved to be too much, and the breakthrough came courtesy of some leadership from Beckham. Donovan recalled how on an earlier corner kick Gonzalez hadn't attacked the ball aggressively enough for Beckham's liking.

"David said, 'Go attack the ball,'" Donovan said. "[Gonzalez] went and got it."

That he did, nodding home Juninho's cross, at which point the crowd got into the game and the Galaxy were energized.

Adding to Houston's woes, the always dangerous Carr was forced to exit with a knee injury.

"You could feel the momentum change," Donovan said. "We felt that it was almost inevitable that the second goal was going to come."

That it did, courtesy of another set piece, one Houston couldn't clear after an almighty scrum ensued. When the ball popped to Magee, he tried an overhead kick that struck Clark in the arm, causing referee Silviu Petrescu to point to the spot. Donovan remarked how his earlier miss haunted him until halftime, but he regained his composure and duly converted the penalty.

"I'm not going to fool anybody and say I was calm about," he said. "I was pretty nervous. But you have to keep going."

For Gonzalez, the goal and subsequent game MVP Award was especially sweet after he injured his knee during a trial with Bundesliga side Nuremberg in January. His ahead-of-schedule recovery saw him return in July and coincided with L.A.'s revival. Now he's an MLS Cup champion for the second time.

"I never thought that I'd be winning [the MVP]," he said. "It was pretty emotional for me to get it. At the beginning of the year, I didn't see myself getting back to this level."

Yet he is, and he did it in front of U.S. national team manager Jurgen Klinsmann, leading Beckham to plead his teammate's case in terms of a call-up.

"He's been dancing around [in the locker room] naked," said Beckham with a laugh. "He definitely deserves it after that."

As for Beckham himself, he insisted he still doesn't know what his future holds. All he knows is that his swan song, after a few uneven passages, turned into beautiful music.

There was some surprise that Beckham didn't take the penalty that Keane earned in stoppage time, especially when Donovan said he was too tired to take it. But he deferred to Keane.

"At the end of the day, I wanted us to win the game," Beckham said. "It's not about me taking a penalty to top things off. It's about winning the game, winning the championship."

For Beckham, that was the only ending that mattered.